Gasser Pollutant Detector with Delta Sigma Pi
Gasser Pollutant Detector with Delta Sigma Pi
---
14 December 2012 | Reading Time: 1 minutes
Gasser is a self-contained mobile sensor for sensing NO2, O3, and SO2. Currently runs only with NO2 as that is the most present pollutant in Paris. This project is using one of our Delta Sigma Pi boards.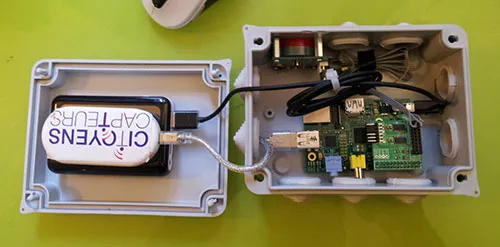 Gasser has essentially three main parts:
The sensor (any analogue or digital sensor can work) -- top left in the main box.
The ADC & computer (analogue to digital converter) -- main board inside the box.
The communication medium (3G, Ethernet, or writing to an SD card) is a white dongle on the left side of the image.
Power is supplied from the black box on the left side of the image.
---