The Raspberry Pi 5
The Raspberry Pi 5
---
19 November 2023 | Reading Time: 2 minutes
On the 28th of September, 2023, the Raspberry Pi Foundation announced the highly anticipated Raspberry Pi 5.
The centrepiece of the Raspberry Pi 5 is its powerful Broadcom BCM2712 quad-core Arm Cortex A76 processor, a computing powerhouse running at an impressive 2.4GHz. This represents a substantial advancement over its predecessor, the Raspberry Pi 4, with a processing speed that is up to three times faster. The enhanced processing capabilities of the Cortex A76 promise a smoother and more responsive experience, opening up new possibilities for a wide range of applications.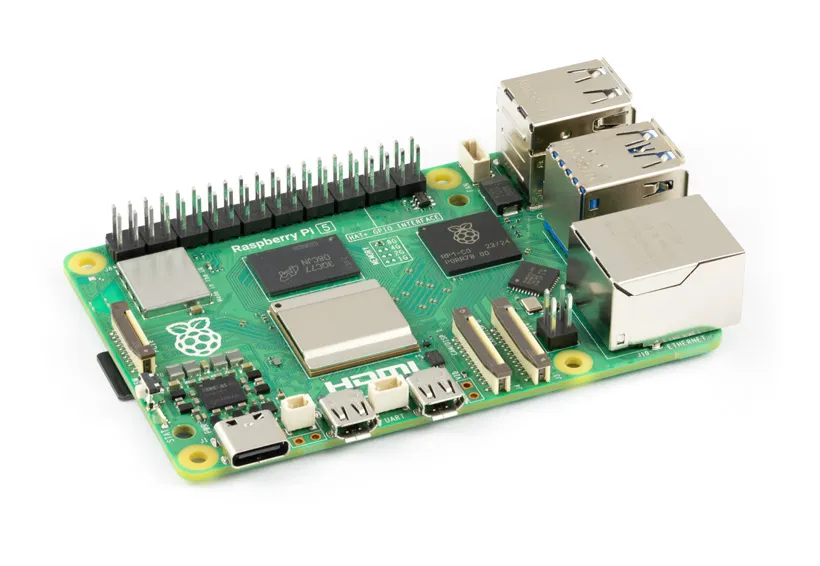 Keenly aware of the significance of this release, we wasted no time acquiring the latest Raspberry Pi 5 to conduct compatibility tests with our existing range of Raspberry Pi expansion boards. After testing and examination, we are delighted to share the exciting news: our current lineup of expansion boards is fully compatible with the Raspberry Pi 5.
Whether you use our IO Pi Plus for GPIO expansion, our ADC Pi for analogue-to-digital conversion, or our Serial Pi Plus for RS232 communication, you can seamlessly integrate these expansion boards with the Raspberry Pi 5.
As always, we are dedicated to supporting our community every step of the way. Whether you're a seasoned developer or a hobbyist embarking on your first project, we're here to ensure that your experience with AB Electronics UK products and the Raspberry Pi 5 is nothing short of exceptional. Stay tuned for more exciting developments as we continue to explore the endless potential of the Raspberry Pi ecosystem.
Join the Discussion
Have questions, ideas, or success stories to share? Join the conversation on our forums and social media platforms. Your input fuels our commitment to providing the best resources for the community.
Happy Automating,
The AB Electronics UK Team
---